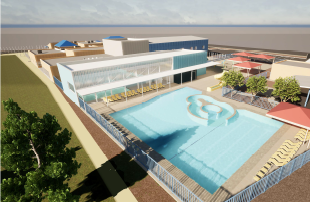 Bernalillo County, NM (KKOB) — A project to bring a full aquatic center to the North Valley is moving past planning and design into construction.
The North Valley Aquatics Renovation Project will take place at the Raymond G. Sanchez Community Center, at 9800 Fourth Street NW, the current location of the Alameda Splash Pad. It includes an outdoor pool, an indoor wellness pool and a lobby/check-in area for guests.
"This is a full circle moment for people in the North Valley," says District 4 Commissioner Walt Benson. "When I was in high school, my brother-in-law was a lifeguard at the swimming pool that had been there in the past. The families in this part of the North Valley are thrilled to have it restored."
Construction on the renovations is set to begin this summer. The $6.9 million project will be paid for with American Rescue Plan Act (ARPA) funding, legislative capital outlay grants, and county general obligation bonds.