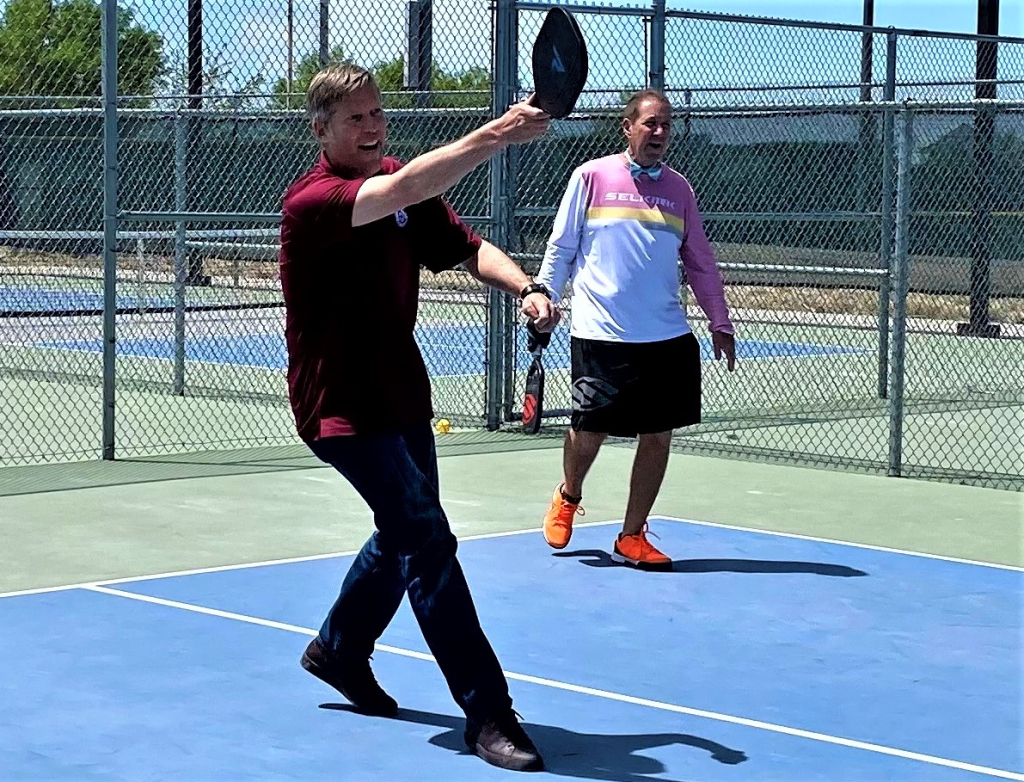 Albuquerque, NM (KKOB) — Albuquerque Mayor Tim Keller and the Parks and Recreation Department hosted Dean Matt Saturday at the Manzano Mesa Pickleball Facility in an attempt to break a world record. Dean Matt is traveling across the nation in what he is calling the "48-48-48 Challenge," a challenge to break the world record of 48 pickleball games, played in 48 states, in less than 48 days. With pickleball facilities available across the city, Albuquerque was a perfect destination along the route for this world record attempt.
"Albuquerque is stop #11 of this tour, and everywhere I have been so far, the pickleball communities have been so welcoming," said world record attempt player, Dean Matt. "Albuquerque holds a special place in my heart since traveling through as a child… There were beautiful blue skies flying in this morning and with weather like this, it's a great day for pickleball!"
The city recently announced major pickleball facility expansion projects on both sides of the river, with smaller projects in between. The Manzano Mesa Pickleball Complex is slated to get a major, $3.5 million expansion, including 15 more courts (for 33 total), a championship court, shade structures, and restroom.
"Pickleball has gained popularity in recent years and New Mexico has taken note," said New Mexico State Senator Mimi Stewart. "I am proud to have dedicated state funding since 2020 to expand our world class courts for residents and visitors alike. With Dean Matt's world record attempt, Albuquerque is part of this history."
Albuquerque is already on the map for sports tourism; hosting events such as the indoor track season, US Cycling and the upcoming "Hang with the Pros" pro-am pickleball tournament (June 1-4, prosportsnm.com). Recreational facility investments continue to be a driver for positive economic impact, health and wellness, and quality-of-life improvements.
"Our continued investments into exceptional recreational facilities for our residents are paying off, not only in improving the quality of life for Burqueños, but for our growing sports economy," said Mayor Tim Keller. "Events like this are only the beginning. More world record attempts, pro tournaments, and increased sports tourism are on the horizon for Albuquerque."