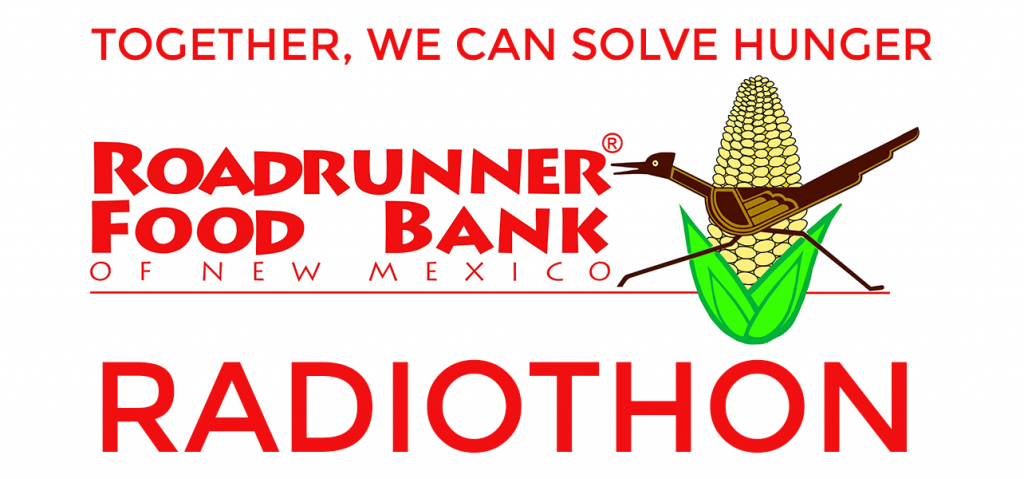 TOGETHER, WE CAN SOLVE HUNGER
Join 96.3 News Radio KKOB as we fight hunger in New Mexico with our radiothon to benefit the Roadrunner Foodbank. Please, donate and help make the holidays brighter for families across the state. A special thanks to our sponsors who made this happen: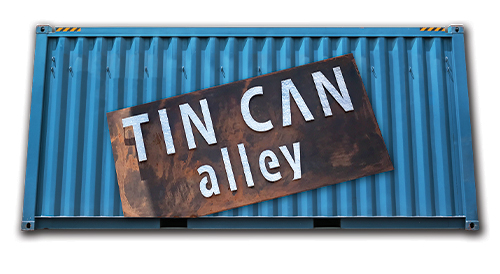 How to Give:
Just a $1 gift helps Roadrunner Food Bank distribute up to 5 meals in community across the state. Given the overwhelming response, if you are able, please give securely and safely online, we encourage you to donate digitally. Operators are limited to answer phone calls.
Click here to donate instantly: www.rrfb.org/kkob
You can also call to speak to a live operator during normal business hours: (505) 349-8909
*if you get a busy signal, please consider giving online safely and securely
Or, you can text your donation amount to: (505) 933-7732
*you will need to include the area code to text your donation amount

OTHER WAYS TO GET INVOLVED
Register to Volunteer
Find out more about volunteering at www.rrfb.org/volunteer
Individuals can register at www.rrfb.org/cervis. Groups of more than one need to schedule their volunteer experience though a staff member.
Or call 505.349.8841 during business hours for additional information
Volunteers are required to social distance in our warehouse, at our community-based outside distributions and are also required to properly wear masks.
The food bank is always seeking volunteers who are healthy in our warehouse, at food distributions and also virtually to help people over the phone.
Virtual volunteers help connect people to charitable hunger food assistance programs AND public benefits help too. www.rrfb.org/help-center

Get Help
Visit www.rrfb.org/find-food for a list of locations in your zip code. Scroll down to the map and enter the zip code where indicated. It is important to call each site prior to visiting to accommodate for any additional coronavirus restrictions in place.
Call 505.349.5340 M-F from 8 am to 5 pm. Please have a pen and sheet of paper handy to help as many people as possible calling in for food help.

Donate Food
Any/all food donations are accepted at our warehouse M-F from 8 am to 4 pm or Sat., from 8 to 2 pm. The address is: 5840 Office Blvd NE (near Jefferson and I-25). Types of food items to donate: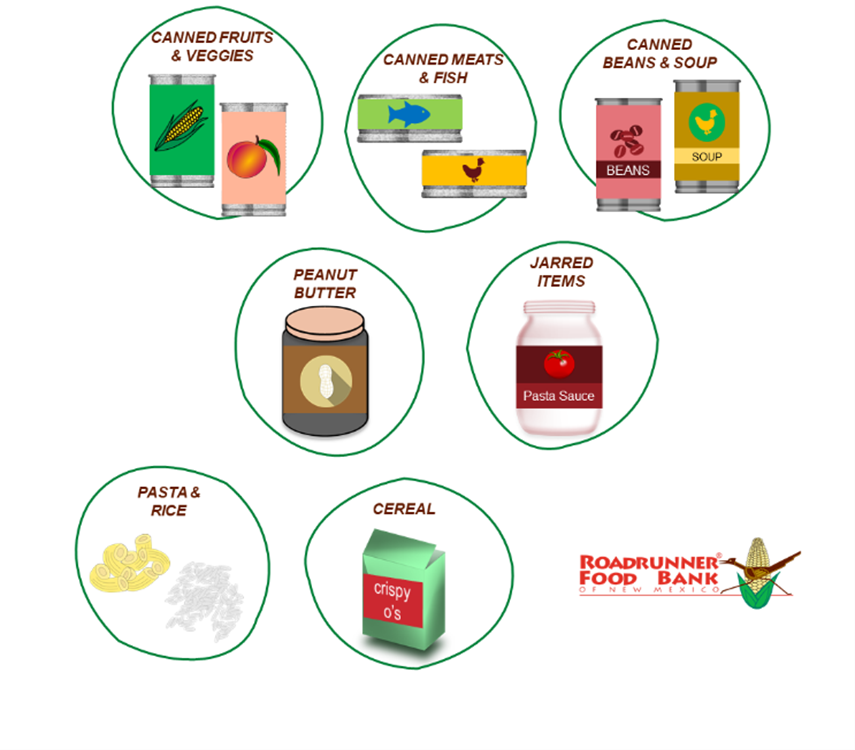 ABOUT THE ROADRUNNER FOOD BANK
Roadrunner Food Bank of New Mexico has been around for more than 40 years. Started in late 1979 by Rev. Titus Scholl, the organization began operating in 1980. Some of the first food Roadrunner Food Bank distributed was corn out of the trunk of a car. It is why corn appears in the food bank's logo.
The food bank works similar to a distribution hub. From the warehouse, our fleet of semi's and box trucks delivers food to hundreds of partners all across the state.
These partners are made up of food pantries, soup kitchens, group homes, shelters, school partners, senior centers, low income senior housing locations and also healthcare sites.
In addition, some of the food Roadrunner Food Bank provides goes to four additional regional food bank partners (see map at the end). We directly provide food to 16 counties and the remaining 17 are served by the four additional regional food banks in the map below. Collectively the five state food banks provide food to more than 500 network/agency partners more than 350 directly are served by Roadrunner Food Bank.