(Edgewood, N.M.) – When the pandemic hit, Nancy Brady was fraught over the idea that she had to stop visiting the hospice patients she had been volunteering to keep company. She originally joined Compassus, a local home-based care provider, as a volunteer because she missed helping people after retiring from a fulfilling career as an art teacher. She worried about her clients from Compassus, and like many, felt the doom and gloom of 2020 settling in late last March. That's when her supervisors asked her to take over their weekly flower donation pick up from a local business. Nancy jumped at the opportunity.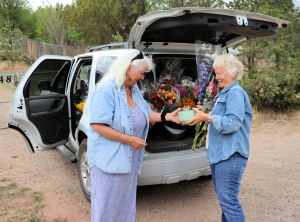 Usually, the flower donations were going to patients in at-home hospice care, but volunteers were no longer allowed to distribute them in order to prevent the spread of COVID-19. So, Nancy had to find a new way to give the flowers and discarded house plants a second chance. At first, she was distributing her flower haul around her neighborhood, bringing smiles to those who live near her, but the operation has since grown much larger. Some neighbors give Nancy donations in exchange for her flower delivery, and she takes an estimated 100 food items to the East Mountain Food Pantry every week to help keep families from Mountainair to Carnuel fed during these troubling times.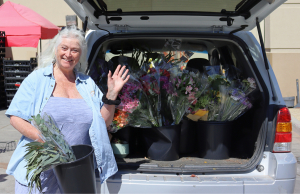 And her reach goes beyond the neighborhood. One of her regulars also happens to be a local firefighter. She takes the flowers to the Johnny Walker Fire Station in the East Mountains for first responders to give to their loved ones, and sometimes the patients they serve on calls. 
During the pandemic Nancy was often the only person her neighbors would see. Now, she says once everyone is vaccinated they plan to all get together in one big group with live music and food to celebrate the community she's helped build. Nancy also has her own day for flower pick up now, so that when hospice patients can get flowers again, her operation can continue.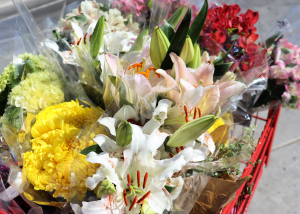 If you have a Good News Story you'd like us to cover, click here.